Find Racing Sponsors with Weicks Media
The value of having a great website is more important than ever. Businesses are going digital to drive more traffic online with more customers, sales, and bookings. The need for outdoor businesses to go online to find more clients is also on the rise. The same can be said for those who are into the racing industry. If you are a racing lover and want to start a business, building a website can help. But if you have been in business a while or manage racing events, a website can provide a lot of value to your business. Finding racing sponsors becomes incredibly easy – no more cold calling looking for sponsors! Sponsors can find you if you can provide what a brand needs. If you are into racing, your website can draw many wealthy sponsors if you can also rank your website on Google's search engine ranking.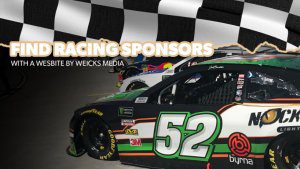 Racing Sponsors Finding You!
As we mentioned earlier, a website that showcases all you have to offer to brands will eventually lead to good sponsors for you. That is possible if you can rank your website highly on Google's Search Engine Results Page, or, SERP. Weicks Media not only builds your website but can also provide search engine optimization services for your website. Find racing sponsors easily with all the professionals doing the hard work for you!
The Cost of Finding Racing Sponsors
With just $500, you get an amazing website showcasing all your work in the racing industry; pick the perfect layout for you between our 5 racing website choices! The specialized pages help the brand to get to know your work in detail. Hosting, core site update, and overall site health reports are included in your $60 per month (or $600 per year). So, why wait any longer? Get in touch with one of the team members who can guide you through the complete process. Weicks Media offers great deals to build your dream website to find racing sponsors for your next racing event.