What Do You Need to Build a Website?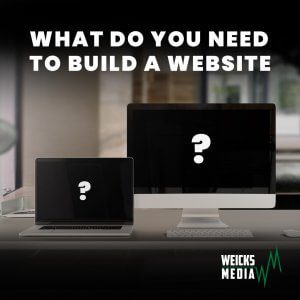 What do you need to build a website? Regardless of the development software or platform, a business needs to follow some fundamental guidelines. These basic rules focus on giving the website a professional feel, ensuring the site is easy to find, while also showcasing your business in the best light.
It's no longer realistic to run a business without an online presence. A web presence is a must-have if you want to reach a broader audience, detail your value proposition, drive brand recognition, and boost sales. Most customers turn to the web when they need to look for product information, to find a business's location or your operating hours. This means even a simple, well-designed, easy-to-use website can be rewarding to your business. Since a site opens up new markets for your products/services, it helps you expand your operations within a budget and with ease—giving your business an edge in the particular industry.
Let's explore where to start and how to get your business online.
1. Register a Domain Name
Like a home address, a domain name is what customers use to locate your business on the internet. You need some creativity in coming up with a name that reflects your products or services. Here, most clients will expect your domain identity to be the same as your business label.
Your next step is registering the domain, which you can do via an accredited registrar, depending on your location. This step comes with a small fee and your domain will need to be renewed before it expires.
2. Host Your Website
To get your site live on the internet, you need the services of a web hosting company. Since the majority of website providers offer hosting services, you have a huge pool to select from. The charges will vary depending on the size of your site how much traffic you expect to have.
Some companies offer domain registration and web hosting as a single package, which is often cheaper than doing the two separately. If you want to build credibility, you can create a domain based email address during this period. Check out our article on what it takes to host a website!
3. Draft Your Content
The content of your website is the primary determinant of whether the site will fulfill its purpose or not. Having thought out what you want customers to do on your website, consider including the information or tools they will need to have a simple and successful visit to your site.
For instance, unique images and videos that align with your written content will boost your conversion rates whether you are selling products or services. Hiring an expert to curate your content will help your site and business look more professional. Our article here explains what SEO is and why you need to be doing it!
4. Build Your Website
Even with the knowledge of what you need to build a website, creating a professional site is a daunting task to any novice. Hiring an expert to design the website and keep it online with the appropriate SEO focus will save you time and give you a great return on investment within a shorter period.
Weicks Media makes it easier to have your hunting outfitter, fishing charter, or NASCAR Racing website running with excellent SEO strategies at just $500 for a 5-paged site. Be visible online to your current and prospective clients. Get in touch with our team today!